School's out for Summer!
Many children will be heading out of London for the Summer holidays but a large proportion will be here for all or part of the six week break. We used to make space for designated play streets in London. Unfortunately these have disappeared as cars have made inroads into our most precious of public space:
'London authorities recognised the value of children being able to play safely in their neighbourhoods in 1938 when they passed legislation preventing traffic from entering designated roads for certain periods of time. The popularity of play streets then spread throughout the capital until the popularisation of car ownership in the 1950's and 1960's.'
Common Law sets out the duty of Councils to protect people when creating, designing or maintaining highways. Discriminating against Children, inadvertently or knowingly is a breach of that duty of care.
Children's ability to travel independently in their local environment has been significantly impeded by infrastructure design that is dangerous and intimidating. Speeding, aggressive motor vehicles, parked cars and shared space bring specific dangers for Children.
However this was not always the case. In Islington I have met many older people in their seventies who cycled independently across London and beyond as 11 year olds. One gentleman described cycling to Southend and back as a twelve year old. We infantalize older children by restricting their accessibility to safe, independent active travel.
Outdoor activity is a crucial component in the growth and development of the child's brain, body and intellect
The importance of outdoor activity cannot be overstated; instead of sitting on a couch watching cartoons, children learn how to ride a bike, roller skate, kick about a ball.
Physical activity develops social, emotional and cognitive competencies. It is also essential for healthy bone development and exposes children to natural vitamin D, sunlight.
Children acquire knowledge experientially through play, experimentation, exploration and discovery. Learning by doing creates more neural networks in the brain and throughout the body, making the entire body a tool for learning. The more neural pathways, the larger the brain.
Physical activity activates the brain much more than doing seat work because moderate to vigorous movement feeds oxygen, water and to the brain, optimizing performance. Sitting, on the contrary,  increases fatigue and reduces concentration.
Activity helps children develop their fine and gross motor skills as well as dexterity and balance, all through exploring, risk taking and having fun. This enhances their anticipation and prediction. In short it helps them become streetwise!
Independent travel by bike or on foot is the perfect way for children to make choices, plan and expand their creativity. It is also necessary outlet for reducing stress, allowing the brain to recharge.
The shocking statistics of
must be a wake up call.
Convention on the Rights of the Child
The UN convention on the rights of the child sets out some basic principles. I have selected a few that might be appropriate to the Mayors Transport Strategy:
Article 4 (implementation of
the Convention)
Governments must do all they can to make
sure every child can enjoy their rights by
creating systems and passing laws that
promote and protect children's rights.
Article 6 (life, survival and development)
Every child has the right to life.
Governments must do all they can to
ensure that children survive and develop to
their full potential.
Article 27 (adequate standard of living)
Every child has the right to a standard of
living that is good enough to meet their
physical and social needs and support
their development. Governments must
help families who cannot afford to
provide this.
Article 31 (leisure, play and culture)
Every child has the right to relax, play and
take part in a wide range of cultural and
artistic activities.
Are Children being airbrushed from the planning system?
Our public space is so unwelcoming for children that George Monbiot believes they have been 'airbrushed from the planning system'.
For the last 20 years, traffic modelling has used secret algorithms to prioritise cars over children's rights to play, roam and travel independently on our streets. This has meant children have been effectively chased off our streets with what I call Pied Piper algorithms. There has been no debate or democratic transparency on how software is used in making these decisions. Accountability has been avoided with lack of tech scrutiny.
In New York, James Vacca, Deputy leader of NYC Council and Chair of Committee on Technology is trying to introduce a bill whereby secret algorithms making Governmental decisions are accountable and transparent to the public. I would like Transport for London to be open about the algorithms it uses, and how that affect the lives of London's children in profound ways. Secret prioritisation of the right to drive over the right to life, health and safe housing of children is unethical and could be illegal.
I sit in on many Transport Committees at City Hall, where the interests of business and needs of adults are listened to at length. But rarely do I hear the interests of children raised and debated. The absence of representation in the halls of power creates a system where children are essentially 'prisoners of bad design'
Jay Griffiths describes starkly how children are penned in and marginalised in her seminal book Kith: The Riddle Of The Childscape:
"Today's children are enclosed in school and home, enclosed in cars to shuttle between them, enclosed by fear, by surveillance and poverty and enclosed in rigid schedules of time."
These metal boxes that shuttle children from brick box to brick box bring their particular dangers. Air pollution is 'nine to 12 times higher inside the car than outside'. They are effectively 'pollution boxes'.
Children's special needs must be taken into consideration when designing streets
In 2011, research by Royal Holloway College, London University revealed that children 'cannot detect' cars travelling faster than 20MPH:
'children's perceptive limitations place them at greater risk of stepping in front of cars travelling at higher speeds'
Meanwhile their lower height puts them more at risk of 'backovers' because they cannot be seen in the blind zone behind a vehicle.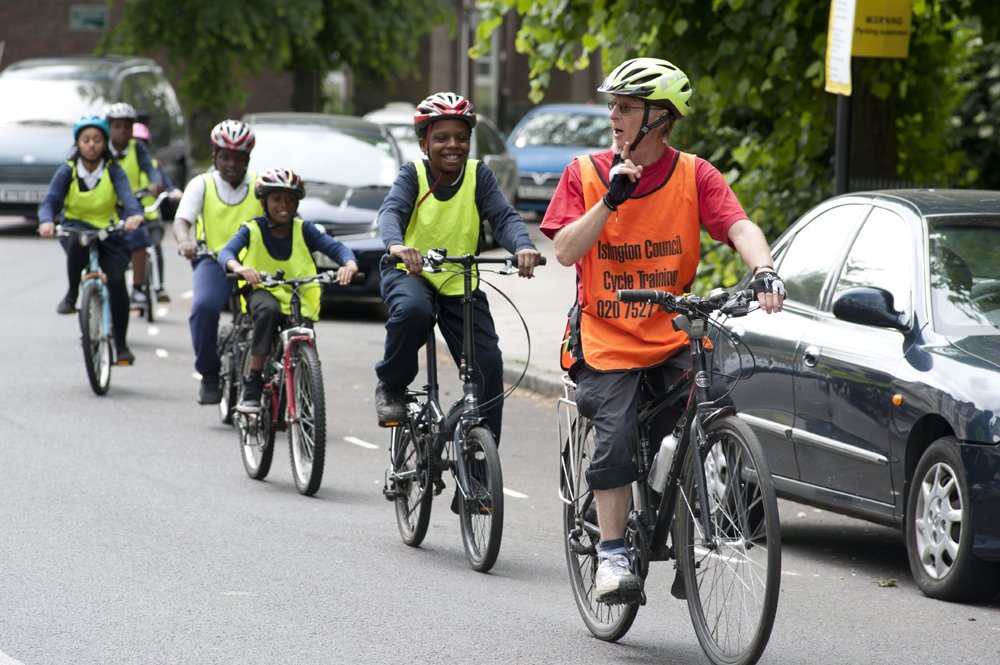 This picture illustrates how children cycling can't see and be seen through a solid wall of parked cars. It has also been pointed out to me by Isabelle Clement, director of Wheels for Wellbeing, that Londoners in wheelchairs, hand cycles and recumbents face similar issues with parked cars. This is an equality and accessibility issue.
Range Rover bonnets meet the shoulders of an average 8 yr old. Small children are shorter so the car bumper more likely to strike them in the pelvis or torso. Armoured 4X4 vehicles designed to 'protect' children are ironically weapons against their potential independence.
How will our children meet the daily level of activity vital for health?
Lucy Saunders, one of the key architects of the Healthy Streets approach, embedded in the Mayor's Transport Strategy Draft, writes:
'Our efforts to tackle childhood obesity have focused on modifying diet, but the other side of the 'energy in/energy out' equation deserves careful consideration for the many co-benefits we can reap. A study by Mackett and Paskins (2004) assessed children's energy expenditure during different activities and found that children burned the most calories when playing outdoors unsupervised or travelling actively. Neither activity is a routine use of time for the majority of children in the UK. Unlike past generations, most children in the U.K. do not spend several hours a day drifting around the streets looking for adventure and opportunity. Instead a car ride to organised activities, playing computer games and watching tv are more common.
There is good reason for this, over recent decades cars have filled our streets in ever increasing numbers. Now more affordable, convenient, comfortable and faster than ever their ubiquity means we don't think to question their right to line our streets when parked and take precedence over other uses and users of the streets when they are moving. As a result many parents are reluctant for their child to walk with their friends to school, the park, the community centre or library and the sight of a child kicking a ball around in their street is rare. While many children living in urban areas live within walking distance of parks their ability to access them is constrained by the availability of an adult to accompany them. If we are to address inactivity amongst children then this is the issue we must face head on: how we will create street environments which are safe enough for children to travel on foot or by bike unsupervised.'
My response to the Mayor's Transport Strategy Draft
I support and welcome the radical direction of The Mayor's Transport Strategy Draft. Minimising motor traffic is the only strategic solution to London's congestion, air pollution, inactivity and obesity crises. And of course Climate Change. But I want children to be at the heart of redesigning our streets too.
So here are some of my early recommendations, specifically but not exclusively aimed at London's children:
We need road pricing across London to reduce motor traffic to 'essential'. This will decrease road danger, air pollution and congestion that impedes children's access to outside play and independent travel.
We must remove car parking strategically to reintroduce dedicated play streets and a car-free cycling network across London. Children need to see and be seen.
The Healthy Streets approach needs to include cyclists from all walks of life as well as pedestrians from all walks of life.
Staggered crossings are not acceptable design, leaving children stranded in the most polluted part of the road.
No child should be severed from school or parks through lack of safe crossings
We need 20 MPH speed cameras or police enforcement. 20 MPH London streets are worthless without appropriate enforcement.
We need weekly car-free Sundays in Central London and Town Centres for families to enjoy.
Cycling infrastructure must be suitable for children cycling independently, as a minimum requirement. NB Bus lanes are not appropriate cycling infrastructure for children.
Children's health and wellbeing must be prioritised over car use and storage.
Transport for London must be open about how it uses data and algorithms in traffic modelling that can discriminate against children's human rights.
We must ban and price polluting cars, whether petrol, diesel, hybrid, electric or hydrogen by real world emissions. Our children's future must not be burdened by our failures on emissions, including  air pollution , water pollution and greenhouse gases.